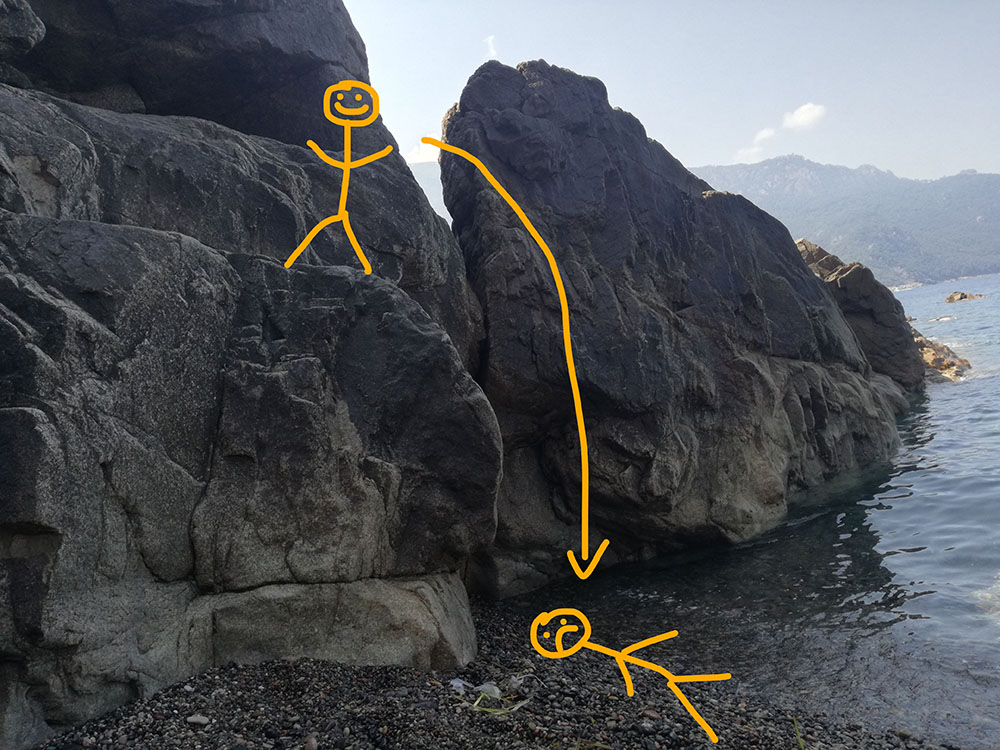 It's been a month since I hurt myself.
We were on a vacation trip to Corsica. It was the morning, and we were walking along a pebble beach, near a village called Porto, looking for the local crag to climb.
A cliff rose at the back of the shore we stood on. It took the shape of the front rim of a pair of glasses, with its lower midsection slowly descending into the water. One had to climb over a three-meter rock band to see what was on the other side.
When I escalated on the small rock to peer over it, about 2 meters and a half up, my foot slipped, and I toppled over, sideways, toward the stony beach underneath.
As I usually do when I take a fall, I yelled. Loudly.
The next thing I knew, I was trying to recover my breath. I laid in twenty centimeters of water, in total disbelief at what had just happened. I could feel a sounding pain all along my right side already pounding aggressively. I grabbed for my ribs. I instantaneously knew I had hurt myself. Julian rushed and kneeled down to help me out of the water. I could hear him shout: "Daddy! Daddy!". He was shocked and scared just as I was.
Jonathan, my eldest son, stood over me, blank, trying to fathom with the idea that his Dad had just taken a stupid fall right in front of his eyes. He thought I looked like James