A billion dollar will not buy you this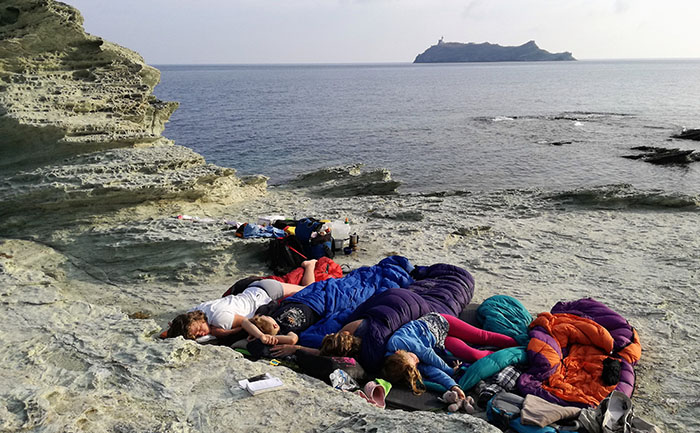 Well, of course, it is not entirely accurate. But let me explain my point.
Three weeks ago we went to Corsica with my family. It was the first time for all of us on the island. We arrived in Bastia early in the morning, swam in crystal clear blue water throughout the day, and we reached the tip of Cap Corsica late in the afternoon.
We had planned to camp outdoors during the trip. The tip of cap Corsica is somewhat wild, and there was no campsite in sight.
Nonetheless, we stopped on a rocky seashore, did a little more snorkeling, then we retrieved the hitting stoves and cooked dinner, a casserole of pasta for all.
As the sun was setting, the sky turned orange, red and then into a blue dark before it made space for the night. As we finished eating, the sea was still and flattened into the horizon.
We put sand in our dishes and washed them in the salty water. The stars started to sprinkle the sky, so we decided it was too late to find a campsite and settled to sleep right where we were, on the stony bank.
We inflated our mattresses and immersed ourselves in our sleeping bags. By now we could observe the milky way, and one could imagine oneself traveling into space towards infinity.
Then we fell asleep. The oldest woke up a few times with a soared back and eventually fell back into dreams until sunrise.
When we woke up, we had the best view in the world. The sea opened up magnificently in front of us. The early sunbeams were glistening its surface. We went for a fast swim, made coffee and nibbled on a few crackers for breakfast. Us, the sea, alone, we felt fantastic.
A billion dollar could not make this experience any better.
But I'll be happy to take that billion dollars nonetheless, to appreciate more experiences like this one at other unique places around the world and also to enjoy a few good nights in comfy five stars hotel when our broken backs call for it.