Monet and the Nymphéas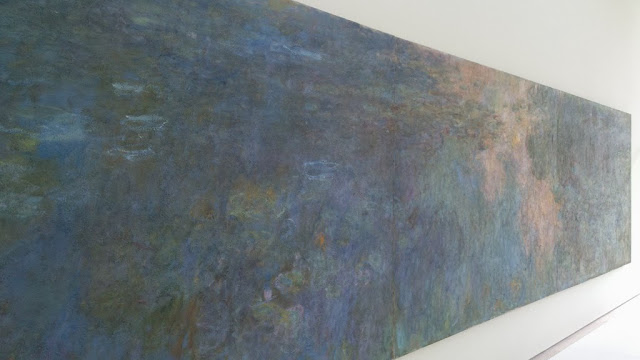 Painting of Nymphéas by Monet at Fondation Beyeler in Basel
In a period of distress, painting can be soothing and help us get through difficulties. The thought of it alone can help. Painting takes your mind away from the dark aspect of things.
Life is not always easy. It does not always unfold as we expect. The unpredictables of life can sometimes be cruel. Moments of anxiety can make us feel small, disoriented and depressed. I believe painting can help.
The thought of painting can be enough to lift up one's spirit and to help escape from a gloomy perspective. For me, all it takes is to open a book about Monet. Although the book is better, one can also Google "Monet Nymphéas". Monet painted over 200 paintings of the Nymphéas. Choose one you like. Personally, I like the Nymphéas which are kept at the Fondation Beyeler in Basel. In fact, I could drive there almost every day to enjoy them.
Monet's paintings of the Nymphéas instill immediate and instantaneous warmth in one's heart. All it takes for the magic to happen is to simply take the time to look at them. One's mind starts to float above the Nymphéas and feel the fresh air of the flowery garden. Slowly and gradually, one's soul appeases and sees the good side of things again.
One cannot help but reflect how a man with a long beard, some oil colors and a few brushes could come up with such beauty. How did he manage to pull out divine gracefulness from so much confusion?
The Nympheas is a proof that absolute beauty exists. In this way, the Nymphéas by Monet are reassuring and can bring comfort to a troubled soul. Sometimes Paradise can be so close to Hell.